Open navigation
Black PR Wire Power Profiler on Christina Romelus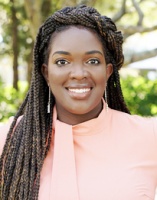 Christina Romelus is a woman who can do it all. Politician, Founder, Activist and Mother are just some of the few titles she has currently bears. Christina did not start her career in the political arena but has always had a heart for helping others. Christina started as a nurse and started transitioning into the political sphere in 2014. She worked her way to the top through hard work and determination as one of the youngest elected officials to represent her community and gained the title of City Commissioner in 2016. 
At the age of 27, Christina Romelus ran for City Commissioner while also in her 3rd trimester with her second child – proving women really can do it all. Since her election, through the use of Public-Private Partnerships, Christina has garnered over $500 million of economic development city-wide. This was no easy feat, Christina learned that running was hard but governing was harder and it was at that point she realized she could do more, not in just serving her community but in supporting other public servants as well.
In January 2021, Christina Romelus launched PolitiCALM.  PolitiCALM is an organization created to train, coach and support all public servants from Elected Officials to Managers/Administrators and Chiefs.  PolitiCALM helps by guiding them through the landmines of being a public servant. Other young politicians such as U.S. Representative Alexandria Ocasio-Cortez have remarked about the hardships of political leadership in such a divided nation. PolitiCALM aims to guide current and future leaders through the difficulties of public service, no matter the office or role.
Christina has contributed to her community in more ways than one and is on a mission to uplift our society and others who choose to answer the call to leadership in their communities.
For more information on PolitiCALM please visit www.politicalm.com